These are fun math problems that help you understand how to calculate the time duration between different events based on short stories.
In Elapsed Time Word Problems, you'll read a story that talks about different events happening at specific times. Your job is to figure out how much time has passed between those events. This is called the "elapsed time."
For example, let's say the story says that Mary started baking cookies at 2:00 PM and finished at 2:45 PM. To find out how long it took her to bake the cookies, you would calculate the elapsed time between 2:00 PM and 2:45 PM. In this case, it took Mary 45 minutes to bake the cookies.
To solve these problems, you can use a few different methods:
Counting by hours and minutes: Start at the beginning time and count the hours and minutes until you reach the ending time. For example, if the beginning time is 1:30 PM and the ending time is 3:15 PM, you would count 1 hour from 1:30 PM to 2:30 PM, and then 45 minutes from 2:30 PM to 3:15 PM. So, the elapsed time would be 1 hour and 45 minutes.
Using a number line: Draw a number line with the starting time on the left and the ending time on the right. Mark each hour and minute between the two times. Then, count the number of hours and minutes between the start and end times to find the elapsed time.
Using a clock: If you have a clock with movable hands, you can set the starting time and then move the hands forward until you reach the ending time. Count how many hours and minutes you moved the hands to find the elapsed time.
Remember, practice makes perfect! The more you work on Elapsed Time Word Problems, the better you'll get at figuring out the time durations between different events. Keep practicing, and you'll become an elapsed time expert in no time!
Printable Elapsed Time Word Problems Worksheets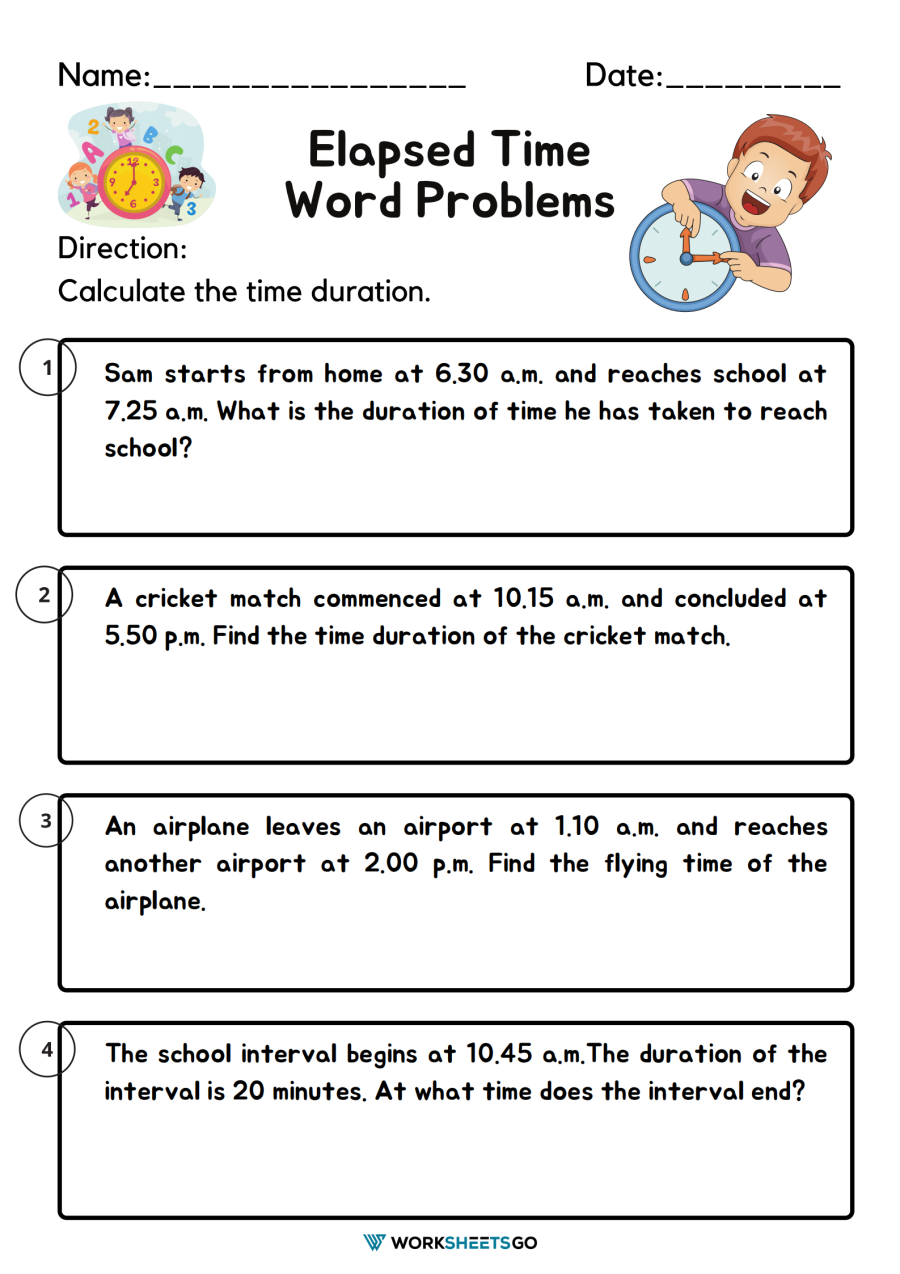 Answer Key