This activity will help you learn more about genetics, specifically how traits are inherited from parents. In this case, you'll be using smiley faces to represent different traits.
You'll start by obtaining two coins from your teacher. One coin represents the father (marked with an "F"), and the other represents the mother (marked with an "M"). The parents in this scenario are both heterozygous for all the smiley face traits, which means they have one dominant and one recessive allele for each characteristic.
To simulate the process of inheritance, you'll flip both coins for each trait. If a coin lands heads up, it represents a dominant allele. On the other hand, if it lands tails up, that signifies a recessive allele.
After flipping the coins, you'll record the results by circling the correct letter (either the dominant or recessive allele) for each parent. Next, you'll use the Smiley Face Traits page to determine the genotype (the genetic makeup) and phenotype (the observable traits) for each characteristic.
By completing this worksheet, you'll gain a better understanding of how genes are inherited and how they determine an individual's characteristics. Plus, you'll have fun creating unique smiley faces along the way!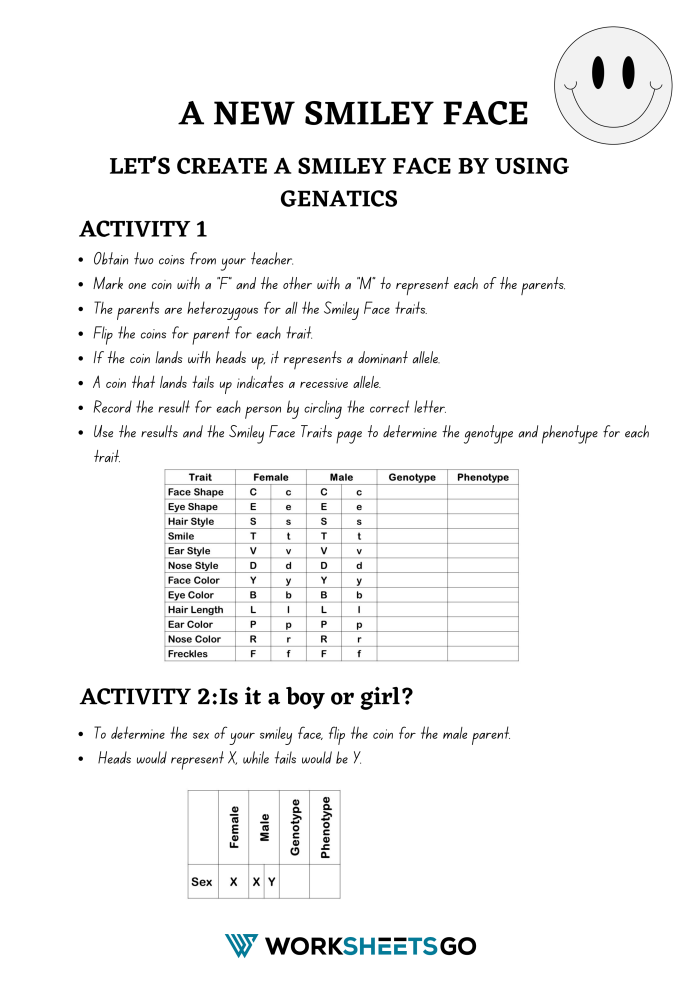 This is a simple project work to get understanding of genetics. With the guidance of your teacher, you can create a new smile.