When learning to read and write, one of the interesting combinations of letters you might come across is "Ch". The combination forms a unique sound, different from the individual sounds of "C" and "H". Worksheets focused on words that start with "Ch" can be a fun way to practice this sound.
These worksheets typically contain pictures of various objects or things that start with the "ch" sound. Next to, above, or below each picture, there might be a blank space or a line for students to write the corresponding word that describes the picture.
Sample Items in the Worksheet:
Chick: An image of a baby chicken. Students need to identify the word "chick" from the box and write it or match it to the picture.
Chain: An image of a series of linked metal rings. The corresponding word is "chain".
Chili: This could either be a chili pepper or a bowl of chili stew. Students would match it with the word "chili".
Chest: An image of a storage box or the front part of a person's torso.
Chin: Picture of the lower part of a person's face below the mouth.
Chair: An image of a piece of furniture that a person sits on.
How is it useful?
Vocabulary Development: Helps students expand their vocabulary with words starting with the "ch" sound.
Phonetic Awareness: Reinforces the "ch" sound, helping students recognize and remember the digraph.
Word-Picture Association: Strengthens the ability to associate words with visual representations.
Writing Practice: If students are required to write the word, it gives them the opportunity to practice spelling and handwriting.
How to Use the Worksheet?
Introduce the Sound: Before handing out the worksheet, introduce the "ch" sound to students, giving a few examples.
Guided Practice: Go through a couple of images together as a class. This helps in setting the expectation and understanding of the activity.
Individual Activity: Let students try to match the words on their own. Encourage them to say the words aloud as they write or match.
Review: Once everyone is done, review the answers as a class. This is a good time to correct any misunderstandings and reinforce the "ch" sound.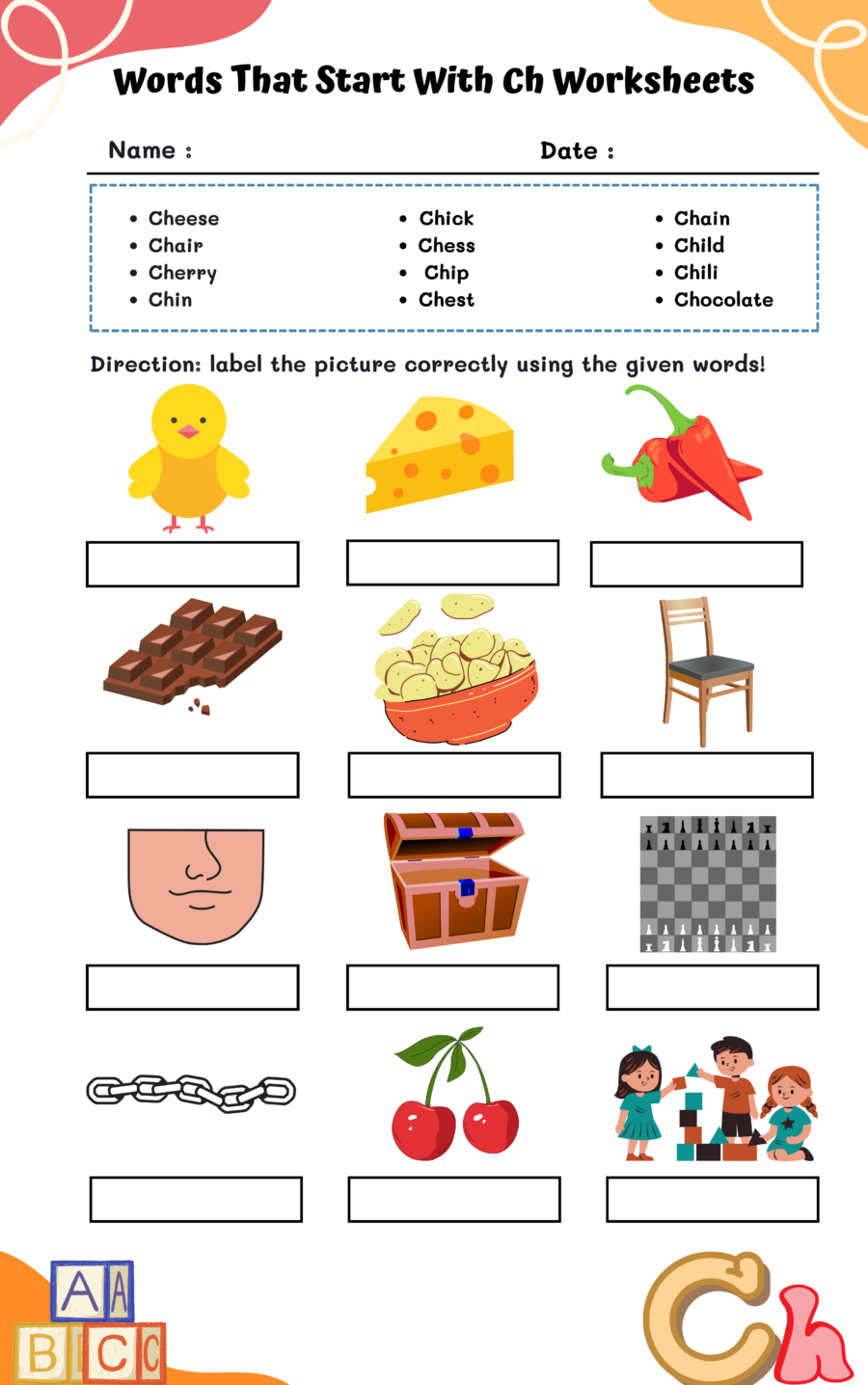 Answer Key